★ Tips: Main products: [quick] relief quick sampling valves sampling valve, Elephant Man Han Fluid Equipment Co., Ltd. has a complete and scientific quality management system. The Company in good faith, strength and quality of products recognized by the industry. Welcome friends to visit, guidance and business negotiation.

Quick sampling valves details:
Medium temperature: 100 (℃)
Working pressure: 12
Material: 304
Brand: Wen Han
Model: sampling valve
Synonyms: sampling valve
Scope: fermenter
Connection: Quick
Type (channel position): straight-through
Quick sampling valve flow direction: one-way
Drive: Manual
Uses: Relief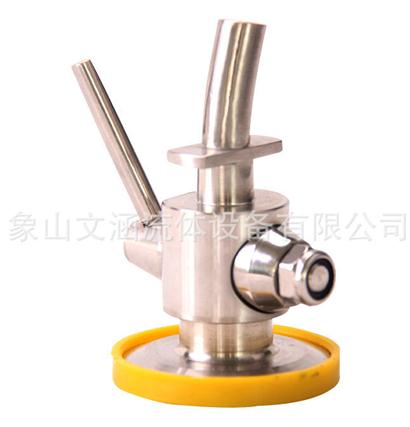 Quick sampling valves - sampling valve applications:
1. (quick sampling valves) for aseptic sampling valve must be sterilized before and after each sample;
2. Open the valve: sampling can be turned on manually operated valves by turning the handle or by pulling the operating lever. Shank and retracted through the liquid membrane.
Close the valve: disinfection, built-in spring closes the valve, keeping the channel open between the hose for disinfection. Use of steam, it is recommended to install a small outlet (quick sampling valve) pressure relief valve.

Quick sampling valve is a valve piping or equipment used to obtain a sample of the media, the media often required in many samples for chemical analysis of the occasion, and more will use specialized sampling valve. According to different works or performance during sampling, sampling valves are divided into three categories, including double-turn valves, flanges and valves clip sampling valve with insulation jacket.