★ Tips: Main products: [quick breathing valve 2-inch quick-breathing valve, sanitary breathing valve, Elephant Man Han Fluid Equipment Co., Ltd. has a complete and scientific quality management system. The Company in good faith, strength and quality of products recognized by the industry. Welcome friends to visit, guidance and business negotiation.

Quick breathing valve details:
Medium temperature: 100 (℃)
Working pressure: 0.2Mpa
Material: Stainless Steel
Brand: Wen Han
Model: breathing valve
Synonyms: breathing valve
Scope: fermenter
Connection: Quick
Type (channel position): straight-through
Quick breathing valve flow direction: two-way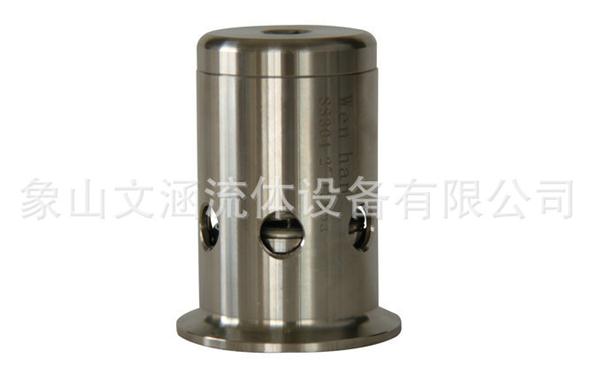 Quick breathing valve Category:
First, the adapter type:
Tight breathing valves are usually used for low pressure straight pipes, sealing performance is good or bad depends entirely on the goodness of fit between the plug and the plug body, which compress the seal faces is to rely on the lower part of tightening the nut to achieve. Generally used PN≤0.6Mpa.
Second, packing type:
Packing breathing valve is achieved by pressing the filler plug and the plug body sealed. Since the filler, and therefore better sealing performance. This usually has a breathing valve packing gland, without extending the plug body, thus reducing the leakage way a working medium. This breathing valve (quick breathing valve) is used extensively for PN≤1Mpa pressure.
Third, the self-styled:
Self-sealing valve is breathing through the pressure medium itself to achieve compression between the plug and the plug body sealed. Plug up small head out of the body, the bulk of the media into the plug through the hole at the entrance, the plug pressed up, this structure is generally used for air medium.