★ Tips: Main products: safety valve] [stainless steel sanitary stainless steel sanitary safety valve spring, Elephant Man Han Fluid Equipment Co., Ltd. has a complete and scientific quality management system. The Company in good faith, strength and quality of products recognized by the industry. Welcome friends to visit, guidance and business negotiation.

Stainless steel sanitary valve details:
Valve opening height: inching valve
Structure: spring
Nominal Diameter: Φ50.8 (mm)
Medium: Steam
Standard: GB
Flow direction: Bidirectional
Parts and accessories: Accessories
Form: Diaphragm
Pressure environment: Low
Type (channel position): straight-through
Body structure: Not Closed
Specifications: 2 inch Item: WH-01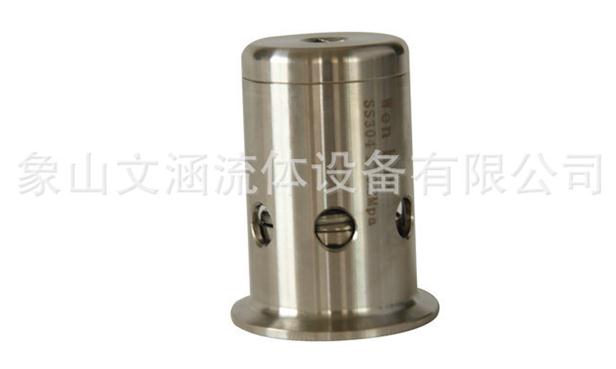 Stainless steel sanitary safety valve part of the technical terms:
Nominal pressure: that the safety valve at the highest allowable under normal temperature with pressure, high-temperature equipment used in high temperature material safety valve should not be considered to reduce the allowable stresses. Safety valve is based on the nominal standard design and manufacture.
Opening pressure: Also called the rated pressure or pressure setting means inlet pressure (stainless steel sanitary valve) valve valve under operating conditions began to rise when, in the pressure began to have measurable opening height, medium a continuous discharge status can be visual or auditory perception.
Discharge pressure: the valve inlet pressure reaches a predetermined height when open. Limit the discharge pressure of the need to obey the requirements of the relevant standards or norms of the country.
Over pressure: the pressure difference between the discharge opening pressure, the opening pressure is usually expressed as a percentage.
Back seat pressure: After contact with the discharge valve seat again, that opening height becomes zero the inlet pressure.
Blowdown: opening pressure and differential pressure of the back seat, usually expressed in percentage of the back seat pressure and opening pressure, and only when using the pressure difference between the two to represent the opening pressure is low.
Opening height: leave the valve in the closed position of the actual lift.
Flow area: refers to the valve closure member between the inlet end to the sealing surface of the flow channel of the smallest cross-sectional area, is used to calculate the theoretical displacement without any resistance when the impact.
Flow channel diameter: diameter of the flow channel is applied to the area.
Curtain area: When cylindrical-shaped or conical surface area of the disc-shaped channel at the top of the seat between the sealing surface of the formation.
Discharge area: stainless steel sanitary valve when the valve discharge minimum cross-sectional area of the flow channel. For the full revelation (stainless steel sanitary valve) valve, the discharge area is equal to the flow area; for inching valve discharge area equal to the area of the curtain.