★ Tips: Main products: [Tank] 0.1Mpa tank breathing valve breathing valve, Elephant Man Han Fluid Equipment Co., Ltd. has a complete and scientific quality management system. The Company in good faith, strength and quality of products recognized by the industry. Welcome friends to visit, guidance and business negotiation.

Tank breathing valve details:
Medium temperature: 100 (℃)
Working pressure: 0.1Mpa
Material: Stainless Steel
Brand: Wen Han
Model: breathing valve
Synonyms: breathing valve
Scope: fermenter
Connection: Quick
Type (channel position): straight-through
Flow direction: Bidirectional
Drive: Manual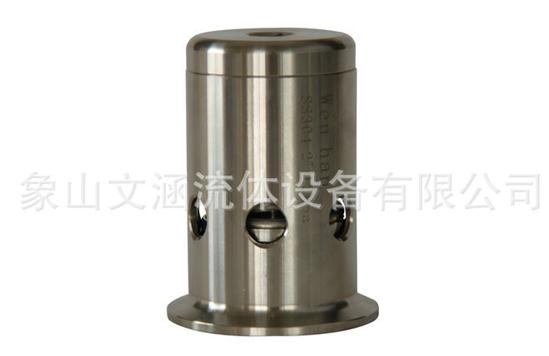 Tank breathing valve selection:
1, the requirements for the installation location and temperature range requirements, it should be used as a cold-weather regions breathing valve, and should be installed in the pipe pipeline breathing valve selection.
2, the control valve pressure breathing should be related to the ability to adapt to the pressure.
3, breathing valve specifications (flange diameter) should meet the maximum out of the oil tank breathing gas flow requirements.

Tank breathing valve works:
1. When the pressure medium tank operating pressure range within the control valve when the tank breathing, breathing valve does not work, keep the tank tightness;
2. When the tank to replenish the medium, the pressure tank to the upper part of the gas space increases, to reach operating pressure breathing valve, the pressure valve is the top open, gas exports from breathing exhalation valve escape, so the tank pressure does not continue increased;
3. When you go outside the tank out of the media, the pressure tank to the upper gas space decreases, reaches operating vacuum tank breathing valve outside of the tank atmosphere will open the top of the negative pressure breathing valve disc, so that the outside air into the tank within the pressure tank no longer continue to decline, so pressure balance tank and tank outside the tank to protect the safety devices.